Historical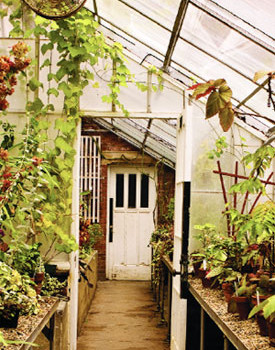 Published on April 11th, 2013 | by Shelley Awad
0
Margaret C Ferguson Greenhouses
Margaret C. Ferguson Greenhouses  Entice Students
With its boastful collection of unique plant specimens like the 130 year old Durant Camellia and the overpowering Brazilian Dutchman's Pipe, the Margaret C. Ferguson Greenhouses at Wellesley College Botanic Gardens' mission is to entice science students to its campus to study the environment.
Compared to other colleges in the United States, Wellesley is home to one of the most diverse botanical assortments of plants under glass used to pique the interest of the students and eventually educate them. The greenhouse displays are said to be so beautiful that they can be compared to a fine art exhibit.
The origin of the greenhouses can date back to the early part of the twentieth century when the founder of the college, Henry Durant, made his extraordinary plant collection available for use to the students. He was obsessed with botany and wanted to share his passion, personal knowledge and experience.
In 1920 the college designated 22 acres of campus land for a botanic garden. The greenhouses were built five years later. A faculty member named Margaret C Ferguson actually designed the greenhouses with the vision to increase their contribution to science, and to promote scientific and environmental literacy. Students are encouraged to visit the greenhouses and to research the huge plant collection online and in their extensive historical archives. There is a large propagation greenhouse where students can practice with plants and two separate greenhouses are designated for research and experimentation. The greenhouses and gardens are used to teach courses in natural sciences and environmental studies focusing on the role of plants as food. The greenhouses highlight plants used for both nutrition and medicine creating studies that intersect with botany.
The main gardens and greenhouses are open to the public and offer a light show called "The Spice of Life" where the greenhouses are lit up in a theatrical way spotlighting the exotic plants.
Points of Interest
• There are 7,490 square feet under glass
• There are roughly 600 species represented
• 400 plants are given away to first year students to pique their interest
• There are 10 indoor hoses for watering
• Around 60 group tours are given each year
• There are 7 different carnivorous species
• Size of the biggest leaf (fan palm) is 13 feet