Greenhouse Growing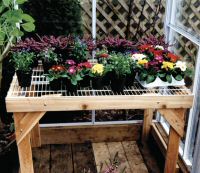 Published on March 1st, 2013 | by Shelley Awad
0
Starting Annuals from Seed
Starting Annuals from Seed
For the gardening enthusiast, growing flowers from seed is not only rewarding because you see the results of your efforts, but it is much more economical. For the price of one bedding plant, seeds purchased can eventually provide hundreds.
Although some perennial plants take much time and care to grow to maturity, annuals on the other hand are easy to manage and they grow quickly. Also consider that most nurseries do not stock the variety of annuals that can make your garden unique, and growing from seed will add that special dimension, at a cost of pennies!
There are many annuals like sunflowers, marigolds, cosmos, nasturstiums and zinnias that can be planted right into the ground anywhere in your garden. They are relatively easy to grow.  You must be certain that you have experienced the last frost for the season.  If seeds are not protected from frost, they will not grow.  If you are a beginner, you will find larger sized seeds easier to handle.
Petunias, snapdragons, coleus and impatiens seeds should be grown indoors under light about six weeks before transplanting them into your garden.
The beauty of owning a greenhouse gives you the advantage to plant your seeds much earlier, so that you can plant mature plants into your garden, and not have to wait for them to grow.  You will have a mature garden much earlier that you will be able to enjoy for the entire growing season.  This holds true for vegetable seeds too.
Always start growing seeds in a seed tray but once they begin to bud and show leaves they should be separated into their own containers.
Whether you choose to grow your annuals directly in the garden, indoors or inside your greenhouse to get a head start for the season, remember to read the seed instructions for depth of planting and amount of light required.
As the seedlings grow, you will notice that some annuals are much fuller than others. Take the time during the germinating process to carefully clear and separate the weak growths and excess seedlings.
Most seeds germinate in the darkness but those that require light will take a little longer than normal to begin growing. If you notice your seeds have a tough coat, soak them before planting for best results.  You can also nick the seed and place it between two damp paper towels for quicker germination.
When considering the germination time for an annual, check the seed packet for information. Keep in mind that you can speed up the growing process by increasing the moisture and sunlight in a designated area of your home or in your greenhouse. If you grow them directly in the garden, make sure you protect them against any harsh weather in the early part of the season.
Keep a journal so that you can record growing times, temperatures, etc.  This way you will have a reference to use each year.  Try growing something you have never had in your garden before.  There are a variety of seed catalogs you can refer to for unique flowering plants.
Happy Gardening!